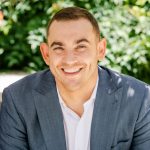 Ted Bangs
Co-Team Leader, Realtor
A little bit about Ted...
A Dallas native and marketing specialist, Ted Bangs is best described as both knowledgable and adaptable in his real estate marketing skill set, Ted transitioned into real estate when he realized that his love for media creation and digital marketing paired well with his ability to relate to people. Primarily serving as a listing agent, Ted's clients choose him for his transparency, personality and commitment to respectful service.

Ted grew up in the Preston Hollow area of Dallas. He credits his success to all the amazing families, friends and associates whom he has met during his thirty years of living in this city. Ted began his collegiate education at Northeastern University in Business Management and then later continued his education, studying Emerging Media and Digital Marketing at the University of Texas at Dallas. As a Realtor®, he pairs these digital skillsets with his real estate services to enable him to do more for his clients. The combination of Ted's education and his instincts about social marketing for business allow him to take advantage of the increasingly digital nature of the real estate industry.
Ted also heads-up the Bangs+Wilkerson in house photography and videography. A hobbyist cinematographer himself, Ted brings his talents and unique eye to his craft to act as quality-control for all media content going out to the public. Along with the photos and video, Ted creates virtual Matterport Tours, floorplans, and drone videos to ensure a complete marketing package. He believes that, "a diverse portfolio of content, containing at least these four main assets, is critical to ranking highly on today's search engines."
Alongside his camera hobbies, Ted is an avid traveler, Netflix-er, dog-lover and mediocre golfer. If he can't enlighten you with his real estate market knowledge, he can sure teach you how to grill some incredible fajitas.